LUIZA MARGAN – Melting Ground
2009
Video, 5′ 50", loop
&nbsp
Melting Ground by Croatian artist with a temporary Austrian address Luiza Margan deals with the nomadic-immigrant position from the perspective of the contemporary art system. Artists of younger and middle generations are drawn into the system of international exhibition practices and residences based on forced migration. Travelling from one residence to the other, from one exhibition to the other, artists who haven't reached the status of "stars" rarely receive honoraria, have no steady incomes, social rights or a legal framework within which to protect their work. Speaking in the first person, from the position of an artist/migrant/subordinate, Margan raises the question of the (im)possibility of speech and representation in the public space, as well as the potential of the affirmation of Otherness. Not by chance, Flakturm, the monumental architectural reminder of Austria's Nazi past, serves as her backdrop.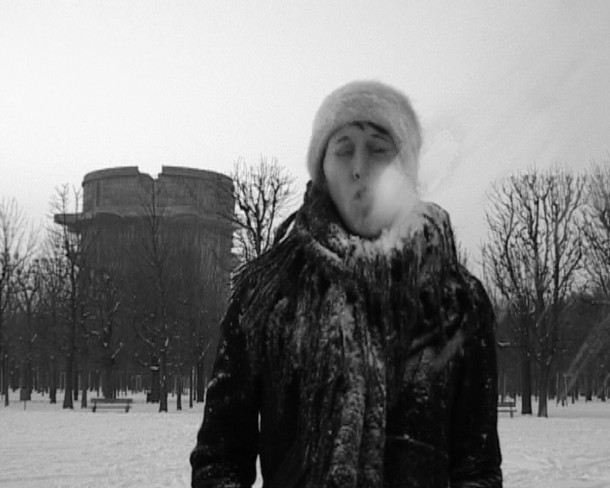 Luiza Margan's (1983, HR) projects are research based works spanning a range of media including video, drawing, photography, text, sound and spatial interventions. In her recent work, the artist explores the relation of artistic engagement to a wider social context. In her video and audio works, real and fictive subjects inhabit and slip out of the prescribed social roles, thus enabling space for critical reflection of the history and value of the work. The physical presence of the body in relation to static social structures (Moving Pillar), as well as speech, is a repeated motivation in her exploration of silenced histories, codes of oppression and the capacity for subversive action through art (Anatomy of the Bow, 2012, Melting Ground, 2009).
Margan studied at the Academy of Fine Arts in Ljubljana (graduated 2006) and Vienna. She has exhibited in various solo and group exhibitions in Croatia and across Europe, such as a solo exhibition Outside the Role at the SC Gallery in Zagreb, Croatia, 2011 and Ground Work, at the Vaska Emanoilova-Sofia Art Gallery, Bulgaria, 2009, and in group exhibitions such as Recalling the Past, the Poreč Annals, 2012, Andere Blicke Andere Räume, Passagegalerie- Kunstlerhaus, Vienna, 2012, Extreme, Kunstraum Niederoesterreich, Vienna, 2011, Iron Applause, a group exhibition in the National Gallery in Bratislava, and others. In 2012, she took part at a residency program in Changdong National Art Studio, Changdong, Seoul, South Korea. In 2012, Margan won the purchase prize T-HT/MSU Art Award organized by the Museum of Contemporary Art in Croatia. Margan lives and works in Croatia and Austria.