bio
Beyond Construction Site, Ljubljana

08. 10. 2011, Kino Grič, 19:00h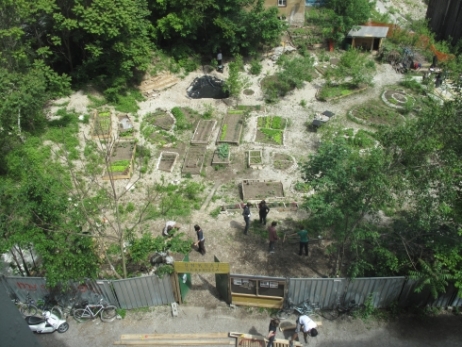 In collaboration with neighbourhood residents and other interested people, Obrat association is transforming a long-fenced-off plot of land near Resljeva street in Ljubljana city centre into a community space intended for gardens, socializing, ecological projects, education, art and culture. In this way they are realizing the goal of the project, which is to examine and show the potential of degraded urban areas and the possibility of their receiving new value through temporary community-based interventions.
Beyond Construction Site has been a classroom for everyone involved, not only about gardening and ecology, but also about sharing the management of a space and its processual and participatory organization.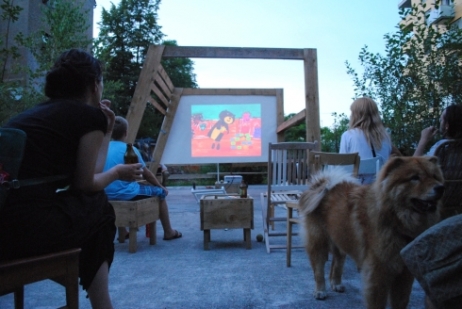 In the presentation authors will reflect upon what a project like Beyond Construction Site means in the context of the city of Ljubljana and its spatial and environmental policies, in the context of the rich local tradition of small-plot gardening, and in the context of the many other spatial initiatives in the region as well as other related projects on a global scale that deal with urban gardening and participatory spatial development.
Beyond a Construction Site
Location: Resljeva ulica, Ljubljana
Duration: August 2010–present
Authors: KUD Obrat (Stefan Doepner, Urška Jurman, Polonca Lovšin, and Apolonija Šušteršič), in collaboration with the members of the Beyond a Construction Site project
Co-producers: zavod Bunker, KUD Obrat
Plot owner: The Municipality of Ljubljana
KUD Obrat
KUD Obrat / Obrat Culture and Art Association is a small non-profit organisation which was established in 2006 in Ljubljana by Polonca Lovšin, Tomaž Tomažin, Stefan Doepner and Urška Jurman; later on Apolonija Šušteršič joined. Their program focuses on production, research, presentation and education on the field of contemporary visual art, sound and architecture. They work transdisciplinary while addressing diverse issues concerning contemporary art, architecture and society. Within this they pay special attention to different phenomena characterizing urban life and space.
Their collaboration started in 2004 when Polonca Lovšin and Urška Jurman realized Ready 2 Change in Ljubljana. Ready 2 Change was a transdisciplinary project that comprised temporary artist-in-residence, exhibition, lectures, presentations and workshops with the intention to provide a multi-facetted insight into the issues of possible life alternatives and innovative approaches to all kinds of systems that rule our everyday lives. The project focused on the principles of informal, temporary and self-sustaining architecture, alternative use of energy, parallel economy, the "do-it-yourself" principle as well as self-organisation and mutual collaboration.