Programme
Does the city regret something? If yes, then how? What form are its stories contained in? How can we discover its secrets? What are the secret links between the inhabitants of the city and the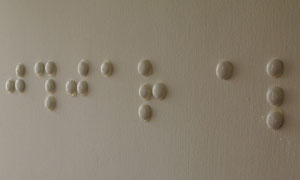 stories and places it regrets for?
In the beginning of April, a classified ad was published, inviting readers to anonymously tell their story, to point to the aspects of the city, which we purposely do not face. These stories will be the take-off spot for a narrative written in Braille around the streets of Zagreb. Thus, the stories will become something that can be touched.
Hidden city seeks to offer a new way of reading unseen and unrecognised elements of the city, elements that bear the memory of the town's pulse. The Braille alphabet demands for the language to be touched, knowledge to be perceived through the body. Graffiti in Braille is like an inaudible howl of the untouched. Hidden city seeks to tell the stories of hidden events that people mostly choose to never face.
Vered Dror graduated from the School of Visual Theatre in Jerusalem and the School of Body Theatre in Tel Aviv,
where she lives and works. In her work, she deals with issues of identity, using various media, which she combines with performing arts in order to create site-specific works.
To her, creating artworks in public space means the possibility of speaking in another language, it opens up a possibility for her to remove the cover from ordinary everyday things, to create extraordinary situations that speak to a society of its condition, and thus to open dialogue about that which is common. Her work demands the occupation of public space for that of private memory.
-